Updated for THATCamp CHNM session on Sat June 8th, 2013, 11am – 12:30pm
Here's the deal: I'll teach two key stages of creating a book with open-source WordPress tools, and in turn, will ask participants to post an idea or comment on our open-access book-in-progress, Web Writing: Why & How for Teaching & Learning, sponsored by Trinity College (CT). Sign up to receive free temporary admin account for hands-on PressBooks tutorial.
See demonstration of two tools in WordPress workflow: CommentPressBooks.trinfocafe.org
CommentPress for developmental editing of draft texts at book, page, and paragraph-level
PressBooks for publishing across multiple formats (web, PDF, Kindle and ePub readers)
Both tools can run on self-hosted WordPress sites (not WordPress.com), see basics here
See how it works page for system requirements, how to install back-end, and comparisons
Hands-on tutorial with PressBooks temp admin accounts to upload content & create your own book
What works, and what could be improved, with PressBooks? Login & share thoughts on notepad
How can authors and publishers work together to use these tools? See Anvil Academic example
Invitation: shape direction of Web Writing book by sharing essay idea or commenting on others
* * * * * * * *
Original session proposal, June 5th: This scholarly communication session idea expands on Sarah Werner's proposal on building a repository of publishing contracts, and Joan Troyano's suggestion to brainstorm new ways to publish humanities scholarship. Can we make a deal to learn from one another? In the spirit of legendary game show host Monty Hall, choose one of these doors to see what you can win at this session:
Door #1: Negotiating with Publishers about Paywalls and Open Access: I have more questions than answers on this topic, and would love to learn more from others' experiences (see Sarah Werner, Working with a Contributor's Contract). But in my view, scholars need better negotiating skills as publishers  continue to reposition themselves with respect to the web, and that means (1) understand the motivations of other parties and (2) know your next best option than the one you're facing at that particular moment. A THATCamp discussion with rich examples might benefit from by my public dialogues with open-access publishers Anvil Academic and my recent exchange with Michigan Publishing/University of Michigan Press, in addition to correspondence, contracts, and reflections in the "how this book evolved" section of Writing History in the Digital Age (co-edited with Kristen Nawrotzki).
Door #2: Hands-on Tutorial with PressBooks: Looking for better digital publishing tools? Hugh McGuire and colleagues recently released the open-source PressBooks plugin for WordPress Multisite, which transforms your content into polished publications for multiple readers: PDF for print, web-book for online reading, Mobi for Kindle, ePUB for iBooks, Nook, etc. My colleagues Carlos Espinosa (Trinfo Cafe) and Korey Jackson (Anvil Academic) and I created a WordPress-based publishing workflow demonstration site at CommentPressBooks.trinfocafe.org. If THATCampers desire hands-on access, I can instantly create sub-site admin accounts and a 5-minute tutorial on creating your own publication in PressBooks, to compare with related tools such as Anthologize.
Door #3: Take a chance on the Mystery Door* (It's a surprise, just like the game show. Read more about the related Monty Hall Problem.)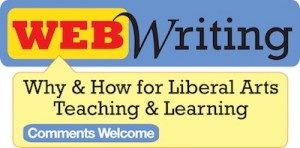 So what's the deal? If you choose any of the doors above, then you agree to post a comment on a book-in-progress, Web Writing: Why & How for Liberal Arts Teaching and Learning. This freely accessible, open peer-review volume explores why & how faculty and students use web-based authoring, annotating, and publishing tools in the liberal arts. My editorial team and I are particularly interested in works that blend the "why & how" by making effective use of the open web platform to blend thoughtful insights with illustrative examples (including links, screenshots, images, etc.). The book's sponsor, the Center for Teaching and Learning at Trinity College, will award $300 subventions to 5 outstanding proposals, with preference given to authors in greater financial need (e.g. students or faculty not in full-time, tenure-track positions). If you're a prospective contributor, or just an interested reader, post a comment on our Call for Ideas & Essay Proposals page before June 15th. Full drafts are not due until August 15th, 2013. Learn about our editorial process and timeline for the Fall 2013 open peer review and freely-accessible digital publication, possibly with a scholarly press. See more at WebWriting.trincoll.edu
*Void where prohibited by law. Gambling is not necessarily endorsed by the Roy Rosenzweig Center for History & New Media, except for spending ridiculous numbers of hours to prepare and submit grant proposals that have very long odds of being funded.